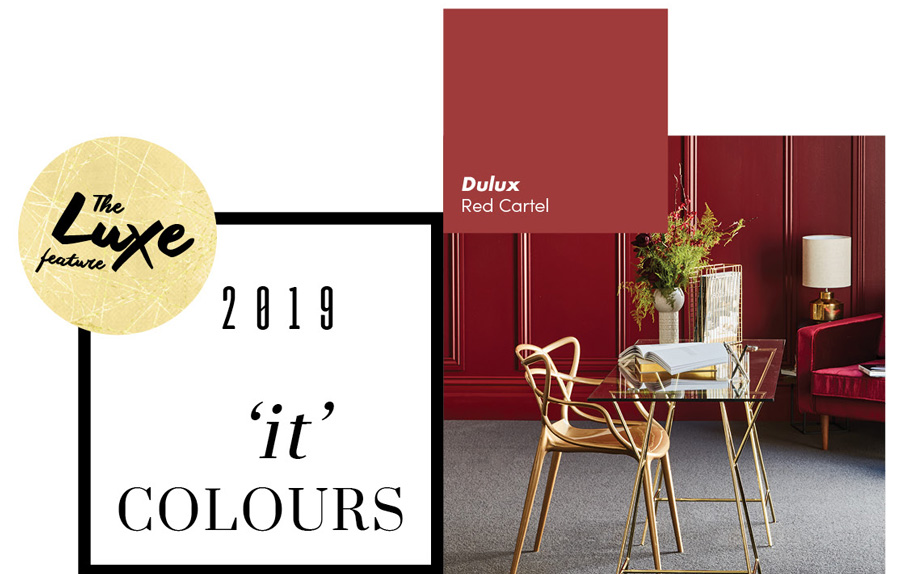 Rich and decadent, brown based Red Cartel feels luxurious and sophisticated and is perfect paired with warm metallics and browns. Amp up the luxury by pairing with gold accents and a wool carpet such as Windsor Wool - Tanners Road in Midnight Coal.
As in the name, Timeless Grey is a sophisticated and classic mid-tone grey. This natural grey can be schemed with many other colours in any space and looks beautiful when schemed with a bright white such as Dulux Lexicon® Quarter.
Love to get this colour for your floor? Try the Harlow Collection - Bellafare in colour Lomond.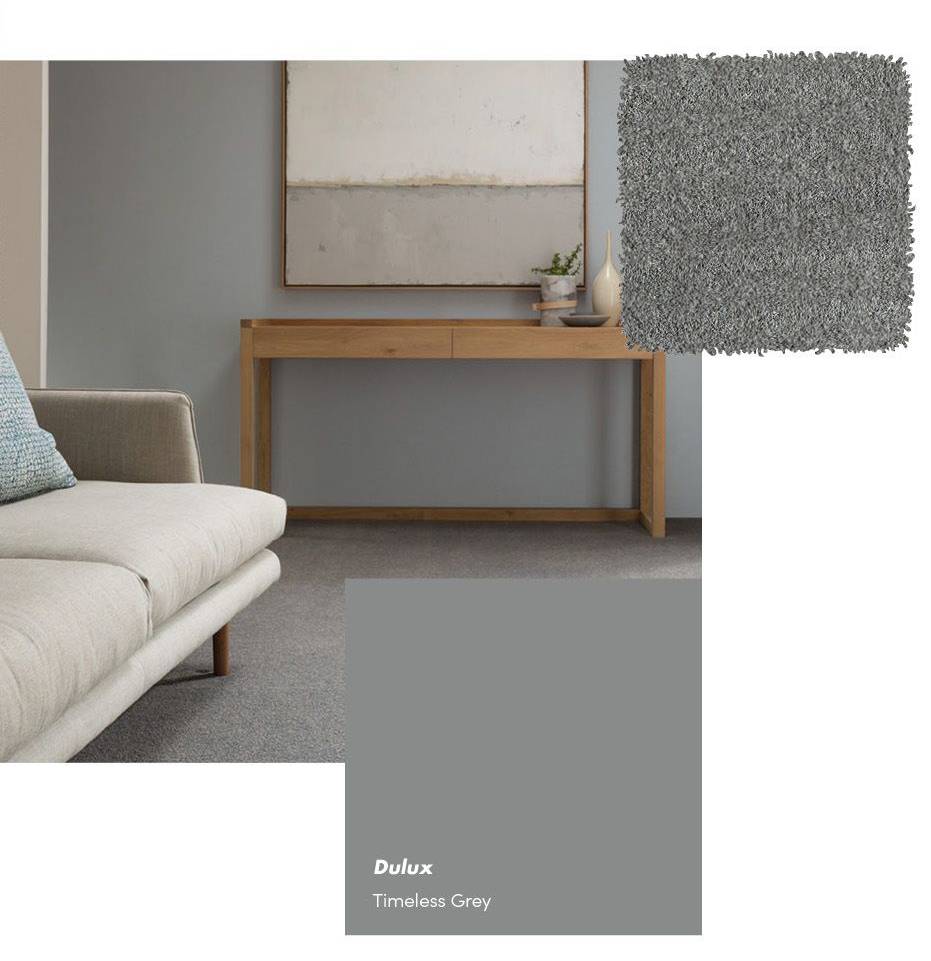 Ecru is a subtle neutral with a beautiful undertone of green. It's an inviting light neutral with high light reflectance and is very easy to use in most rooms in the home. Try Dulux Vivid WhiteTM for trims and architraves for a timeless colour scheme.
This striking blue is a perfect reminder of your favourite island paradise holiday. Dulux Magnetic Blue is a great colour to use as an accent in a bedroom, study or dining room.
Make this bold colour really pop by pairing with Genero Multi-Lay Native luxury vinyl in NSW Blackbutt design.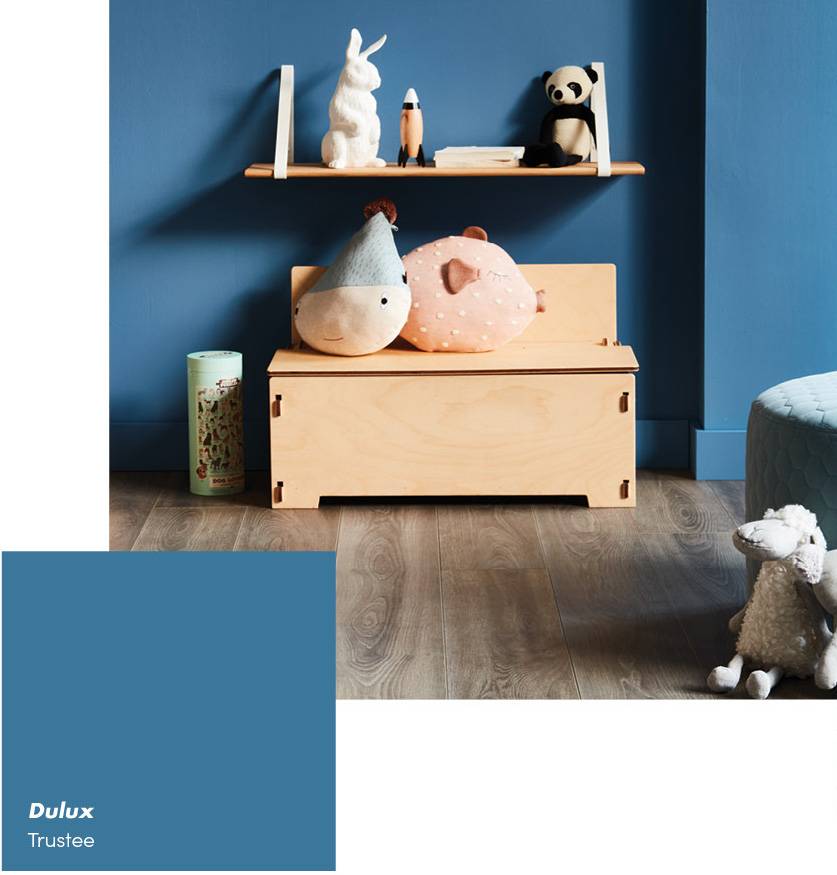 A timeless blue, Trustee is the perfect colour to inject life into your spaces such as a lounge, dining or kid's playroom. Shown here with Tarlo Oak from the Plantino Laminate Noosa range providing durability to match its contemporary style.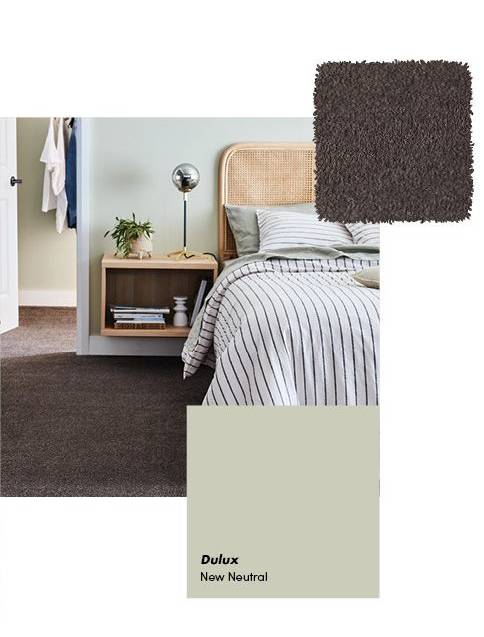 New Neutral is a mid based grey/green which is so easy to live with and shows classic appeal. Introduce a sense of relaxation and calmness into your home with this subtle green which can be used in any space.
Here we've combined with the luxurious Creighton, in colour Admiralty, part of The Harlow Collection of carpets.
Domino is a deep and decadent charcoal grey and such a beautiful colour to decorate with. Domino will create the perfect backdrop for your favourite sofa, artwork or heirloom piece. Try this dark colour in a formal bedroom, entry, living room or study.
Choices Flooring is excited to partner with Dulux to bring you the latest colour trends for the home. From fashion runways to home interiors here are the colours to look out for when planning for your luxe look.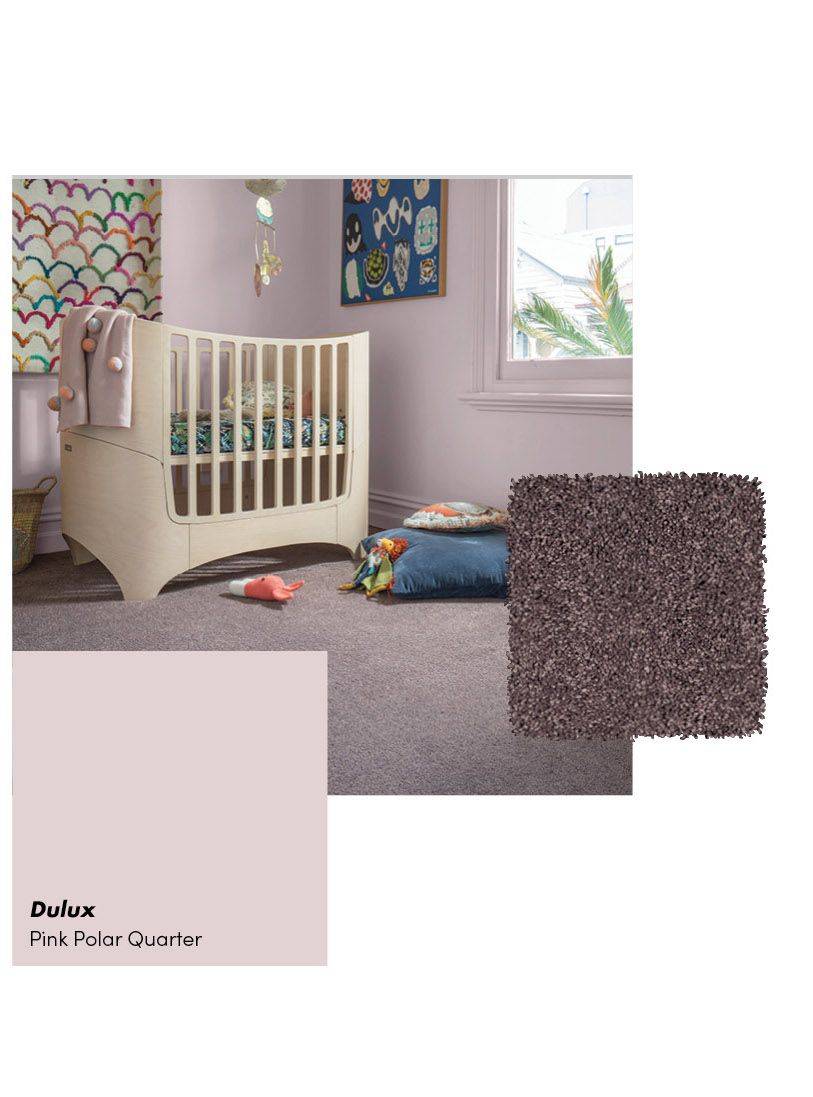 A subtle pastel pink, Pink Polar Quarter is soft and restful and perfect for a casual living, bedroom or study area. Scheme alongside soft greens or blues.
The warm tones match perfectly with Brease - Sabiya in colour Carob which has the added benefit of being asthma and allergy friendly.
Please note: Colours and product samples shown may vary due to the printing process. Consult your local Choices Flooring store or Dulux colour consultant for a truer representation.
TREND ALERT
MOODY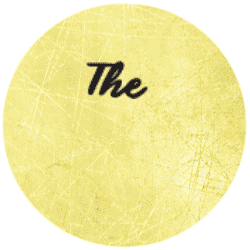 Clockwise from left: entrend - Splendid, Demona; Plantino Engineered Oak Royale, Siena; Haven - Collard, Hush; The Harlow Collection - Creighton, Transcendant; Eternity - Quinn, Antipodes
While the style uses dark hues like black and navy, dark doesn't have to mean dreary. Dusty pinks, soft blues and jewel tones can soften the look. White doesn't feature in this trend, rather opt for shades of grey.
The addition of metallic touches, such as bronze and tarnished brass, can add sophistication and depth to your space.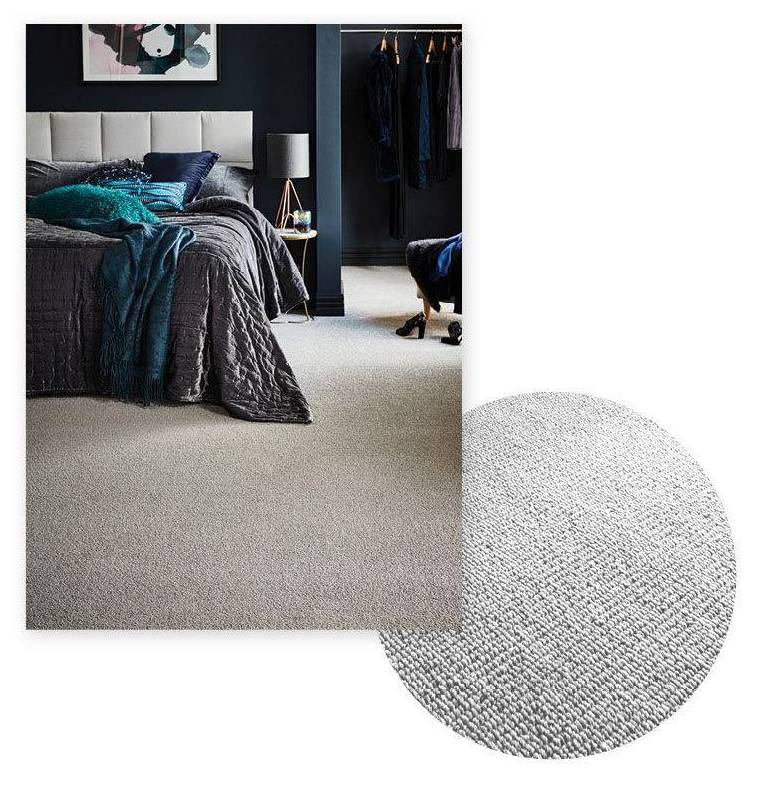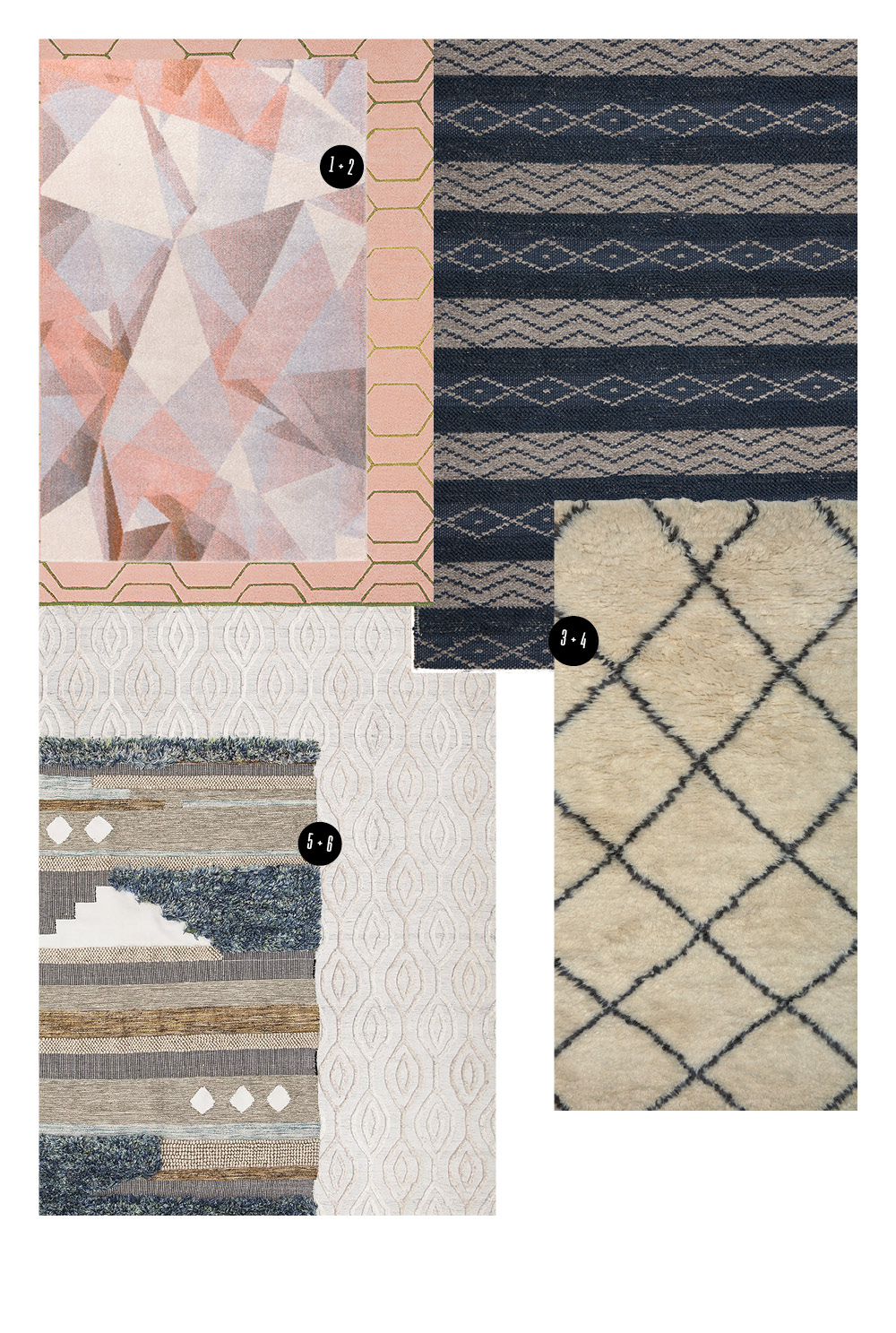 GET THE LOOK
LAYERED RUGS
Layering rugs is a great way to add colours, patterns, and textures to a room. There are lots of ways to make this look work in your home - whether you want to delineate space or add texture, here are some ways to make this decorating technique work for you.
Don't be afraid to embrace colour! Many people layer rugs to bring colour into a neutral space. Select complementary colours and patterns and make sure you keep in mind the other items in the room.
Play around with different shapes and sizes to help define your space. Consider using small rugs that you love but were originally too small for a space. Simply layer them on top of a larger rug.
Mix textures and colour to add character to your home. Adding textures into your space is another great way to add depth to your interior.
Natural Choices - Wool Loop

Colour Featured: Wilmington
Go for a thick weave for the ultimate comfort underfoot as well as a sense of textural interest and enveloping cosiness. This sumptuous wool carpet has been layered with pieces in similarly tactile materials – a tan leather sofa and velvet accessories – resulting in a finished palette with a luxe, organic sensibility and lashings of natural style.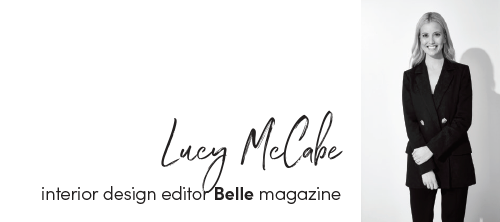 Create a luxe feel in your home by up-styling your window furnishings. Whether you prefer the practicality of roller blinds or the elegance of shutters, the MOOD Collection has the perfect window furnishing solution for your home.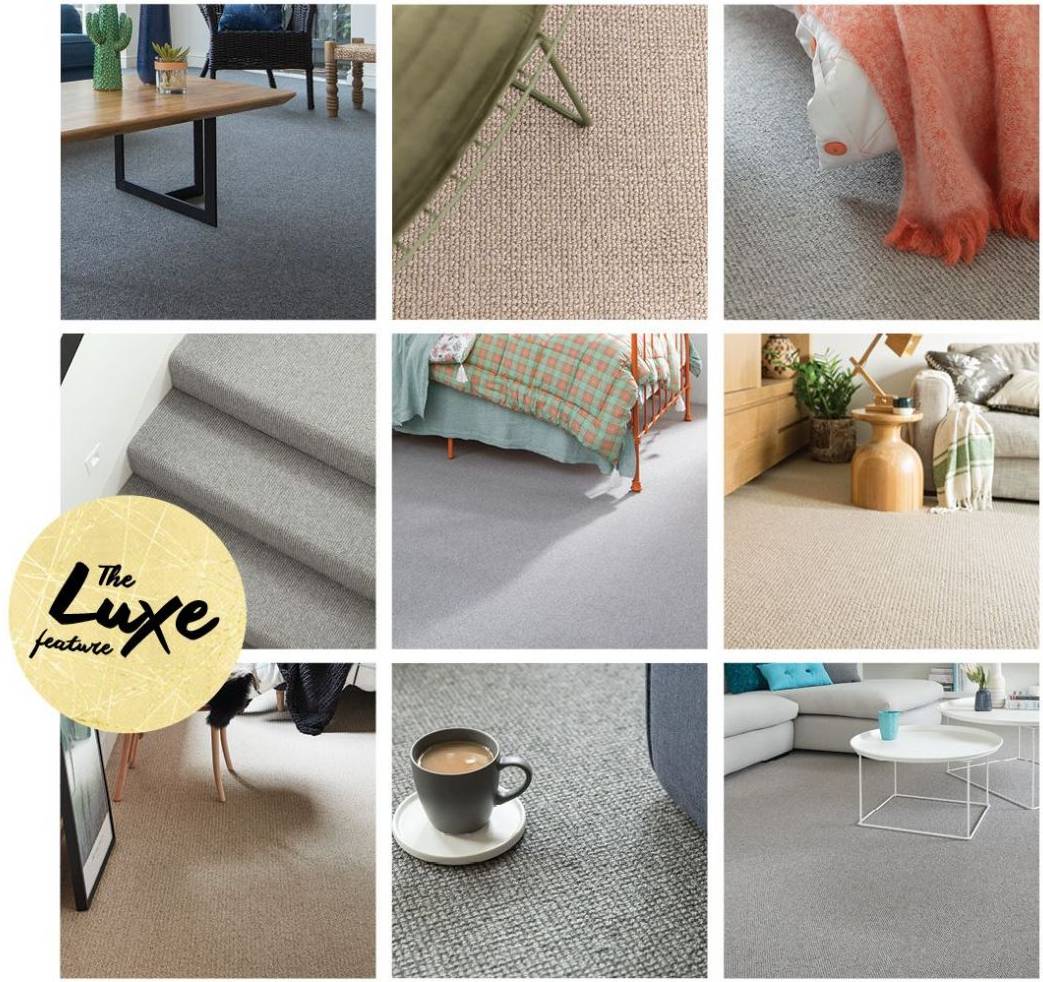 There are a lot of reasons to fall in love with the beauty of wool.
Wool is an incredible fibre. Synonymous with cosiness and comfort, many of us love to reach for our favourite woollen jumper, or snuggle under the warmth of a fleecy throw rug. If you opt for wool carpet, your whole house can also benefit from its natural good looks.
Wool is the most luxurious, feels beautifully soft, is springy underfoot and boasts enduring quality. For those who suffer from asthma and allergies, the beauty of wool extends to its health benefits. Wool carpet resists dust mites, mould and bacteria and its fibres cannot be inhaled making it a great natural non-allergenic option.
Wool carpet has wonderful insulating properties which help keep your floors toasty warm in winter and cooler in summer. Incredibly durable, it also naturally repels and resists stains, disguises dirt, is flame retardant and easy to maintain.


Design Featured: Limed Chestnut
Luxury vinyl planks will add visual texture and warmth to a bedroom and look fantastic when layered with a large area rug. Make sure the rug is positioned landscape style, two thirds under the bed and one third exposed at the foot of the bed, with equal measurements either side toland your feet on in the morning.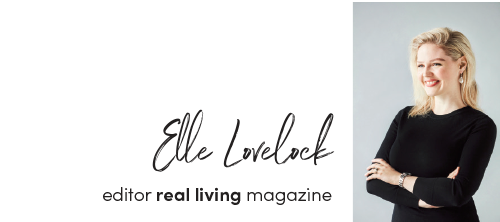 Rug - Polypropylene & Polyester


Design Featured: Sandpaper Oak
Family Friendly Choices - Solution Dyed Nylon Twist

Colour Featured: Fortress
SEE ETERNITY - ARCHER, COBBLESTONE IN NZ